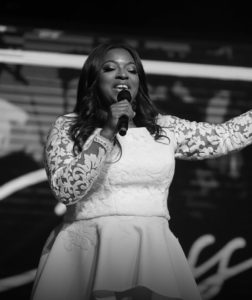 LADY LATONJA BLAIR

First Lady
a native of Fort Worth, Texas and proud mother of four, is an anointed psalmist. She is also known as, the "Psalmist of Deliverance" because "deliverance" is manifested in the lives of those who hear her sing and speak. Lady Blair's melodious voice yields deliverance to the battered, the bruised, and the broken. Her soul wrenching style is a unique blend of contemporary and traditional gospel, with an unmistakable anointing to usher in the presence of God to sit among mankind. Her spiritual covering and ministry has been highly influenced by the ministry of Dr Bridget Hilliard and her husband Bishop IV Hilliard.
Lady Blair's passion for singing began at the age of seven. While many sold out to secular music, she continued to pursue the purpose and call of God on her life. From writing music to singing, Lady Blair yields herself as a vessel of God, and an instrument of praise. She is a recording artist and a minister of the Gospel, raised by God for such a time as this; to usher in the transforming power of the Lord through the Ministry of Music. As an active member of AIM-Association of Independent Ministries lead by Dr Bridget and Bishop IV Hilliard; she has seen her ministry flourish. As a noted vocalist and lyricist, she has ministered to audiences around the world including, The Women Who Win Conference hosted by Dr Bridget Hilliard, The Threshing Floor Conference, and Women on the Front Line Conference hosted by Prophetess Juanita Bynum.
Lady LaTonja Blair is the First Lady of New Breed Christian Center. After years of success as ministers of music and gospel recording artists, in 2004, God elevated her husband and her to found and pastor New Breed Christian Center, "The Church Where Everybody is Somebody". Prepare to be blessed by the ministry, songs of deliverance, and praise and worship of Lady LaTonja Blair.
For ministry requests email